CHC50113 Diploma of Early Childhood Education & Care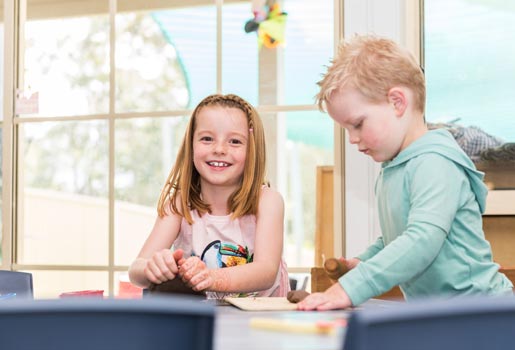 CHC50113 Diploma of Early Childhood Education & Care

CHC50113 Diploma of Early Childhood Education & Care qualification reflects the role of early childhood educators who are responsible for designing and implementing curriculum in early childhood education and care services. In doing so they work to implement an approved learning framework within the requirements of the Education and Care Services National Regulations and the National Quality Standards.
They may have responsibility for supervision of volunteers or other staff. Our qualification incorporates the Early Years Learning Framework (EYLF) and the Australian Children's Education and Care Quality Authority (ACECQA) requirements.
This course may be completed through a Smart and Skilled Traineeship / Entitlement pathway or a fee for service enrolment.
UPON SUCCESSFUL COMPLETION OF THIS QUALIFICATION
OCCUPATIONAL TITLES MAY INCLUDE
Nominated Supervisor
Family Day Care Educator
Group/Team Coordinator
Childcare Educator
Certified Manager
Educational Leader
Approved Provider
Director/Manager
Service Coordinator
DELIVERY OPTIONS → Fee for Service and Smart & Skilled Entitlement model enrolments
18 to 24 month enrolment duration
Minimum of 240 work placement hours required
DELIVERY OPTIONS → Traineeship
Min avg of 21 hrs per week
Full Time term = 24 months

 

(18 months where CHC30113 completed)
Open to New Entrant & existing workers
UNITS of COMPETENCY → CORE and ELECTIVE
28 Units to be completed in total: 23 Core & 5 Elective units
Code
Title
Core / Elective
CHCLEG001
*Work legally and ethically
Core
CHCECE001
*Develop cultural competence
Core
CHCECE002
*Ensure the health and safety of children
Core
CHCECE003
*Provide care for children
Core
CHCECE004
*Promote and provide healthy food and drinks
Core
CHCECE005
*Provide care for babies and toddlers
Core
CHCECE007
*Develop positive and respectful relationships with children
Core
CHCPRT001
*Identify and respond to children and young people at risk
Core
HLTAID004
*Provide an emergency first aid response in an education and care setting
Core
CHCDIV002
*Promote Aboriginal and/or Torres Strait Islander cultural safety
Core
CHCECE016
Establish and maintain a safe and healthy environment for children
Core
CHCECE017
Foster the holistic development and wellbeing of the child in early childhood
Core
CHCECE018
Nurture creativity in children
Core
CHCECE019
Facilitate compliance in an education and care service
Core
CHCECE020
Establish and implement plans for developing cooperative behaviour
Core
CHCECE021
Implement strategies for the inclusion of all children
Core
CHCECE022
Promote children's agency
Core
CHCECE023
Analyse information to inform learning
Core
CHCECE024
Design and implement the curriculum to foster children's learning and development
Core
CHCECE025
Embed sustainable practices in service operations
Core
CHCECE026
Work in partnership with families to provide appropriate education and care for children
Core
HLTWHS003
Maintain work health and safety
Core
CHCECE009
*Use an approved learning framework to guide practice
Core
CHCECE006
Support behaviour of children and young people
Elective
CHCPRP003
Reflect on and improve own professional practice
Elective
CHCMGT003
Lead the work team
Elective
CHCDIV001
Work with diverse people
Elective
CHCECE028
Collaborate with families to plan service and supports
Elective
* A person will be taken to be actively working towards a Diploma level qualification after successful completion of the 11 indicated units of competency
We have listed commonly used electives however there is a wider range of electives available to suit your requirements.
This qualification is Centrelink approved.
Professional Development Workshops & Study Sessions available
How to Enrol
Please complete the following enrolment form online to enrol into the full qualification.
Trainer Support
Students are able to contact their Trainer and Assessor through email and telephone during normal business hours. To ensure the quickest response time, the preferred method is via email.