CHC30113 Certificate III in Early Childhood Education & Care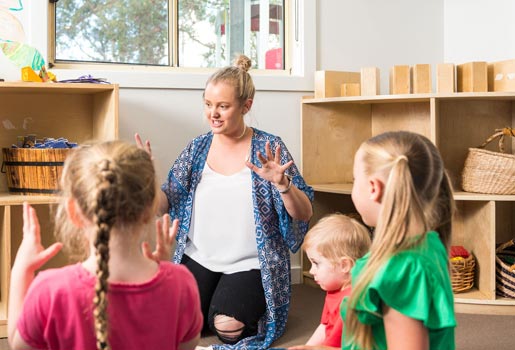 CHC30113 Certificate III in Early Childhood Education & Care


CHC30113 Certificate III in Early Childhood Education & Care qualification reflects the role of workers in a range of early childhood education and care settings who work within the requirements of the Education and Care Services National Regulations and the National Quality Standards. They support the implementation of an approved learning framework, and support children's wellbeing, learning and development. Depending on the setting, educators may work under direct supervision or autonomously whilst educating children to achieve their developmental outcomes.
Our qualification incorporates the Early Years Learning Framework (EYLF) and the Australian Children's Education and Care Quality Authority (ACECQA) requirements.
This course may be completed through a Smart and Skilled Traineeship / Entitlement pathway or a fee for service enrolment.
UPON SUCCESSFUL COMPLETION OF THIS QUALIFICATION
OCCUPATIONAL TITLES MAY INCLUDE
Early Childhood Educator
Family Day Care Educator
Nanny
Out of School Hours Care Assistant*
Mobile Assistant
Recreation Assistant*
Playgroup Supervisor
DELIVERY OPTIONS → Fee for Service and Smart & Skilled Entitlement model enrolments
12 month enrolment duration
Minimum of 120 work placement hours required
DELIVERY OPTIONS → Traineeship
Min avg of 15 hrs per week
Full Time term = 12 months
Open to New Entrant & existing workers
UNITS of COMPETENCY → CORE and ELECTIVE
18 Units to be completed in total: 15 Core & 3 Elective units
Code
Title
Core / Elective
CHCLEG001
Work legally and ethically
Core
CHCECE001
Develop cultural competence
Core
CHCECE002
Ensure the health and safety of children
Core
CHCECE003
Provide care for children
Core
CHCECE004
Promote and provide healthy food and drinks
Core
CHCECE005
Provide care for babies and toddlers
Core
CHCECE007
Develop positive and respectful relationships with children
Core
CHCECE009
Use an approved learning framework to guide practice
Core
CHCECE010
Support the holistic development of children in early childhood
Core
CHCECE011
Provide experiences to support children's play and learning
Core
CHCECE013
Use information about children to inform practice
Core
CHCPRT001
Identify and respond to children and young people at risk
Core
HLTAID004
Provide an emergency first aid response in an education and care setting
Core
HLTWHS001
Participate in workplace health and safety
Core
CHCDIV002
Promote Aboriginal and/or Torres Strait Islander cultural safety
Core
CHCECE006
Support behaviour of children and young people
Elective
CHCECE012
Support children to connect with their world
Elective
BSBWOR301
Organise personal work priorities and development
Elective
We have listed commonly used electives however there is a wider range of electives available to suit your requirements.
* Depending on jurisdiction, some jurisdictions require CHC40113 Certificate IV in School Age Education & Care
This qualification is Centrelink approved.
Professional Development Workshops & Study Sessions available
How to Enrol
Please complete the following enrolment form online to enrol into the full qualification.
Trainer Support
Students are able to contact their Trainer and Assessor through email and telephone during normal business hours. To ensure the quickest response time, the preferred method is via email.